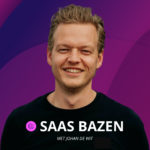 Paazl: een bekende naam in de wereld van eCommerce. De claim op de homepage luidt: "Paazl is the global platform for carrier
management and delivery experience that brings more satisfied and engaged customers to your webshop."
In deze aflevering hoor je CEO Jan-Willem Roest over de groei van Paazl. Ook deelt hij zijn ervaringen uit zijn eerdere loopbaan: hij had een topfunctie bij PayPal voordat hij in 2019 naar Paazl kwam. Hoe is het eerste jaar bij Paazl verlopen en wat is de impact van COVID-19 op de vraag in de markt?
https://community.saasbazen.nl/
https://nordhaven.io/
https://www.paazl.com/nl/